Firm Overview
---
Have you been arrested for DUI or other crime in Illinois? You need help fast. Early intervention may be critical to success in your case. Call now to talk to an experienced and knowledgeable criminal defense attorney and DUI defense lawyer in Frankfort, IL and Shorewood, IL.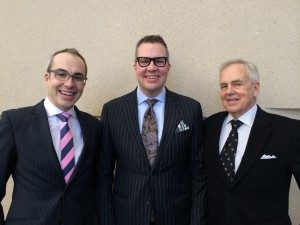 The MacNeil Firm is a family of three lawyers, a father and two sons, who are dedicated to providing superior criminal defense and DUI defense in Illinois and Indiana.
With decades of experience among them, the family of lawyers at the MacNeil Firm Ltd has the knowledge and courtroom experience to serve you and your case. Our wide range of experience at both state and federal levels allows us to provide personalized, well-informed aggressive legal representation for all kinds of cases and charges. We're the criminal lawyer defense team that you need on your side.
About Donald N. MacNeil:
Graduated law school in 1997
Member of the National College for DUI Defense
Licensed in the State of Indiana
Licensed in the State of Illinois
About R. Scott MacNeil:
Certified public accountant
Graduated law school in 2003
About Donald L. MacNeil:
Graduated law school in 1968
Each of our attorneys holds licenses to practice law in both Illinois and Indiana. This allows us to serve clients in both states, particularly in Cook, Will, Kankakee, Lake, Porter, and Grundy Counties.
What sets the MacNeil Firm apart from many other criminal defense lawyers and DUI defense attorneys is our passion for the law, the Constitution, and our dedication to producing a winning result in your case. Said another way, we hate to lose. Nothing is more rewarding to us than securing a Courtroom Victory for our clients. Whether you are a first offender or have multiple arrests, our criminal defense attorneys and DUI defense lawyers take a personal interest in each case, and our commitment to you and your case is unmatched.
While there are many good defense lawyers who can handle all kinds of criminal cases including drunk driving and drug cases, the MacNeil firm is distinguished by our personal service. We make every effort to exceed our client's expectations during this stressful time after an arrest.
We make the following commitments to every client:
We will take time to learn about you and your case, as well as any mitigating circumstances leading up to the arrest.
Any questions you may have will be answered, and we will make sure you fully understand the evidence and procedures involved in your case.
Our lawyers will thoroughly explain all of your available options.
Once we have decided on a strategy, our lawyers will devote themselves fully to producing a successful result in your case.
As your case is pending, we will promptly return all phone calls and keep you advised throughout the duration of your situation.
Call now for a free consultation and case evaluation to speak to a qualified criminal defense attorney or a DUI defense lawyer at (815) 290-9170.